Day 27 – All Downhill From Here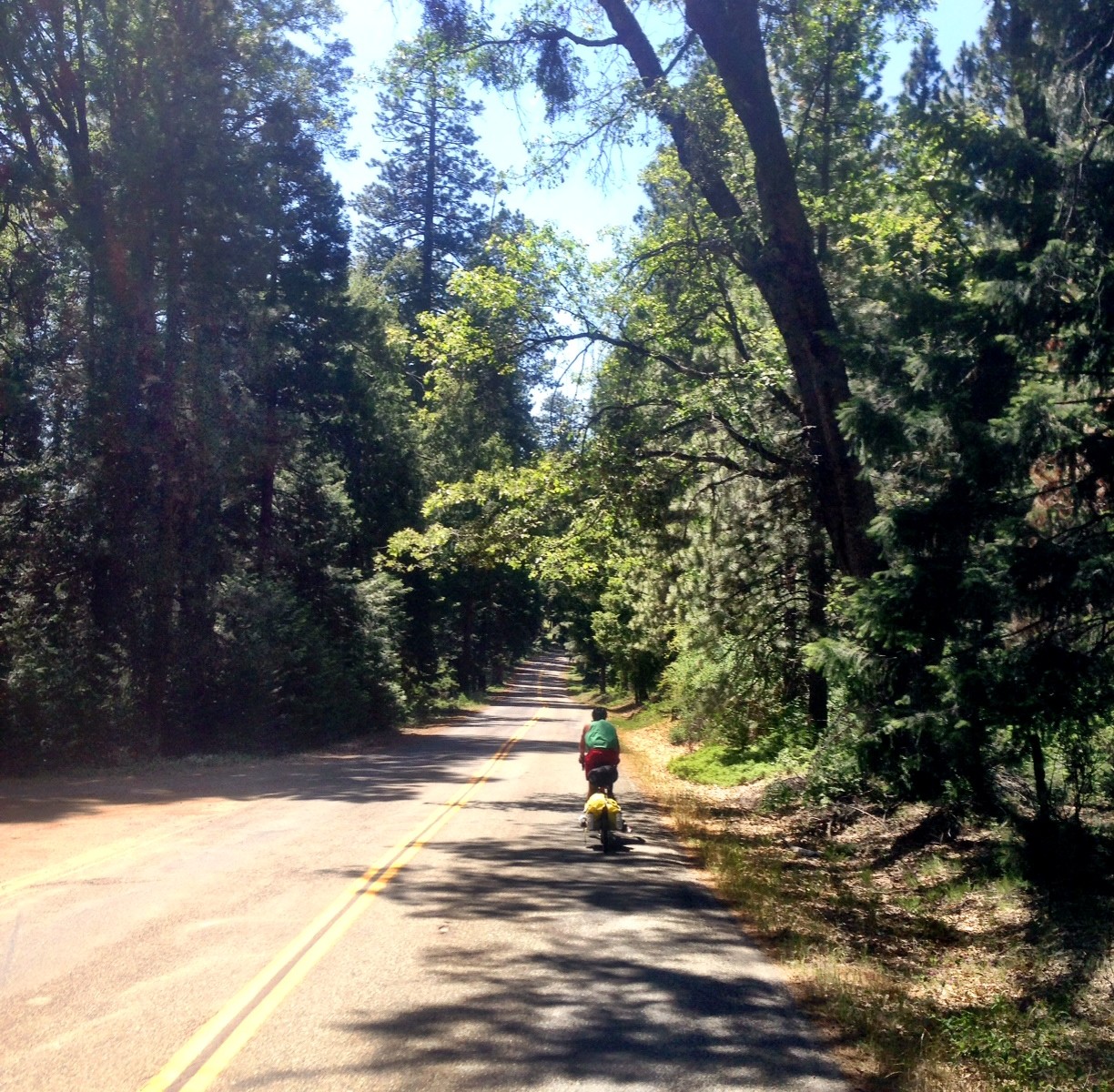 This morning was a slow start after fighting the urge to stay in our warm sleeping bags, and finding out Seth had a flat tire. By the time we hit the road it was already 8:20am, but we knew it was only 9 miles to the highest point in California so we were thrilled for that. We finally reached Carson Pass (8300 ft elevation) and began our descent, except we were met with another long haul back up another hill. Our elevation profile on our map didn't indicate anything that lasted more than a mile uphill after Carson Pass except one small mountain, but we shrugged it off and kept going.
After battling a few more long walks up some steep hills, we reached that other small mountain. Finally, we had some downhills to coast and enjoy the views around us. As we continued downhill I got a little further ahead of Seth so I kept one eye on my mirror to make sure he didn't get too far behind. Luckily I glanced once and noticed something black in the road – it was one of our pannier bags that fell off Seth's bike. I stopped and waited for him to get situated a little ways down the mountain. Once I saw he was coming again I began to slowly take off, keeping one eye in my mirror to make sure it was all good. Well… that's when I hit a patch of loose gravel on the side of the road. At this point I knew I was going to fall hard, it was just a matter of when and how. My front wheel wobbled out of control as I held my brakes and I saw a patch of loose gravel about 20 feet ahead. It so happened to be next to a mile marker pole, and a big metal drain pipe. My only concern was to not tumble on the pavement though. I headed for the loose gravel and barrel-rolled into it, stopping just short of the drain pipe and somehow missing the mile marker pole.
Of course, all of these things happened within about 10 seconds, and I honestly didn't consider any of the obstacles besides the drain pipe and landing on the road. I fortunately dodged the mile marker pole and didn't land on any large rocks. The only damage done was some scrapes (and I'm sure some bruises) and my back tire is crooked again. Things could have been a lot worse.
The rest of the day was spent going up and down small mountains trying to reach Placeville, CA by 6pm before the bike shop closed. The backroads we had to take were definitely something else. Besides the hidden potholes everywhere, the 100ft+ tall trees standing right next to the road was something I had never witnessed before. I would probably rate this road as the 'prettiest' one we've went on this entire trip. There was no shoulder and sometimes the road turned into a "One Lane Road", but the peacefulness and serenity while riding through it all was bliss.
Unfortunately though, we didn't make it to Placerville in time which means we have to wait until 9:30 for the bike shop to open in the morning. Since we did 80 miles today, we should still be on track (if everything else goes well) to reach San Francisco in 1.5 days.
Total miles biked: 80 from Hope Valley Campground to Placerville, CA
"Adventure without risk is Disneyland." – Douglas Coupland