Day 3 – Real Food and Deep Mileage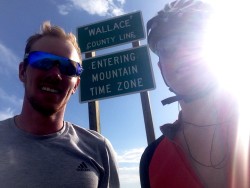 Finally ate some real food! There was a place right by the interstate bridge that we stopped at and had a homemade burger and fries, along with some beer-battered fried mushrooms. After eating peanut butter sandwiches for pretty much every meal up until that point, let me say you have a deeper appreciation for real food!
To get to that food place we pedaled 41 miles from Leoville, KS to Oakley, KS. It was only 11:30am at this point because we had an awesome wind at our back (a north wind, odd) as well as fresh asphalt that had allowed our tires to coast easily. However, with that fresh [black] asphalt came a beating sun that took a toll on both of us. I thought I would pedal the day away with a shirt off to even out my great looking tan thus far, but I quickly realized the sun was prying right through my sunscreen. As our water levels in the bottles began to get lower and lower, and lips starting to crack, we made the decision to pull over to a farmhouse along the highway we were on. Out came a lady and her young daughter and she gladly allowed us to get some water from their hydrant in the front yard. As we filled our 6 water bottles, and drank 4 as we did that, she offered us ice cubes to top it off. Such a great lady and we extend our thanks to you for your help!
As we left the eatery in Oakley, there were just a lot of small towns along the way that we passed without much excitement. I noticed that the landscape was starting to become more hilly, hot, and barren. The only thing that really got me going was seeing a handful of 'dust devils' (which are just very small tornadoes that were made from dust). We hit Winona around 3:15pm and rested until 4:30 since we were so far ahead. Then came the decision to either crash in a ditch for the night, or strive for Wallace, KS which was 22 miles away. To our delight, there were a lot of big hills going down, and few large ones going up, which allowed us to make it to Wallace by 7:00pm. Although, it technically was 6pm since we finally hit a timezone change (picture below)!
Total mileage today… 90 miles!
"Not all those who wander are lost." ― J.R.R. Tolkien
Picture 1 – Hitting our first timezone change!
Picture 3 – "Selfie" of a Turkey Creek sign (we have a Turkey Creek that goes through Wilber, NE)
Picture 4 – Buffalo Bill Cody Statue
Picture 5 -Our first real meal! Hamburgers and fries