Day 12 – Hot Springs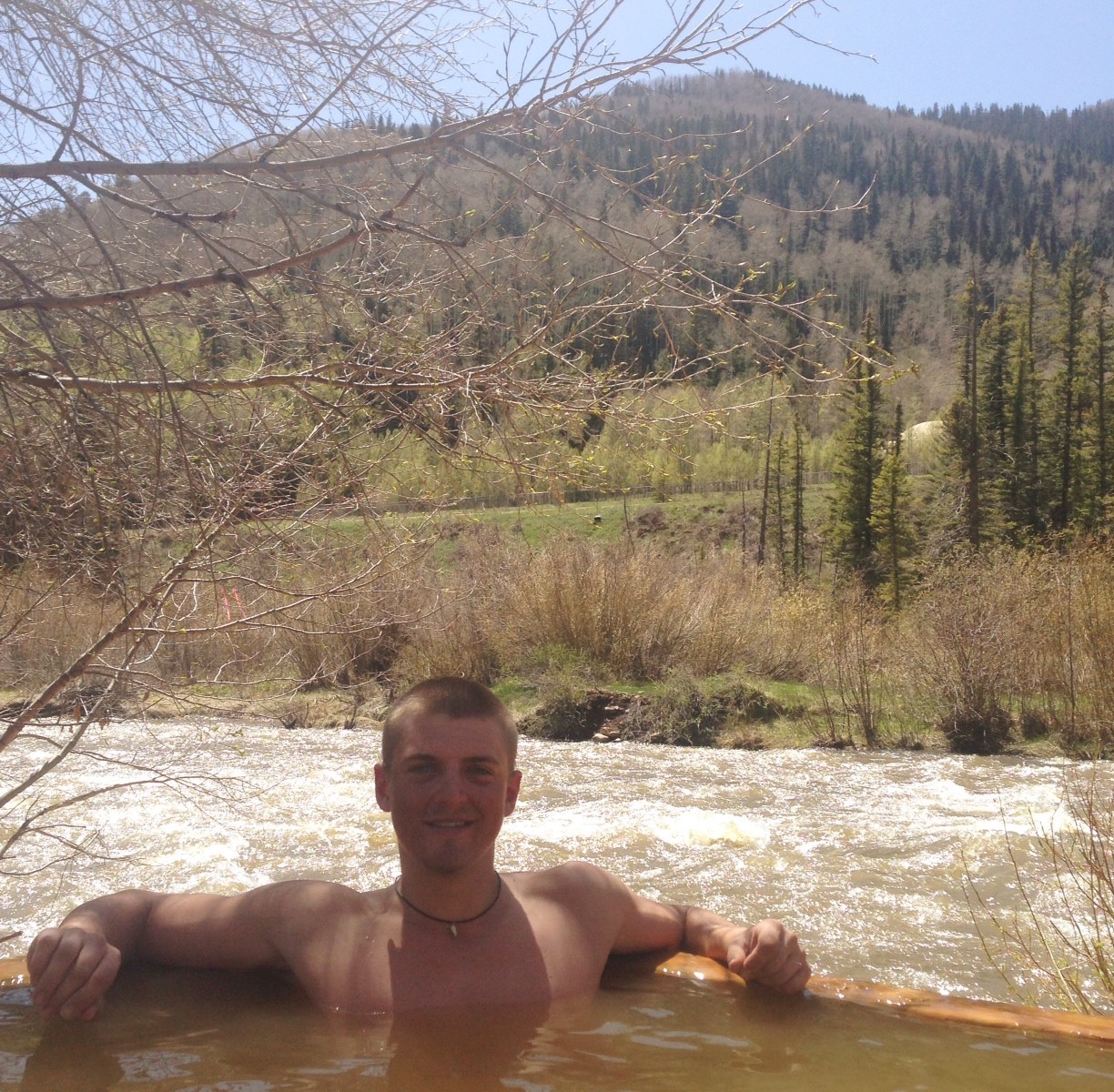 The morning started off with us sleeping in until 7:30 since we had to wait until 9:30 for the bike shop to open. I got out of the tent and to my surprise someone, or something, had rummaged through all our items in our bike trailer. After looking closer, it was definitely some kind of animal. I won't make any assumptions about it being a bear, but the teeth marks were pretty far apart from each other… I also found a pink slip on our camping table that said we owed another $6 for camping there (we underpaid I guess). For a while Seth and I debated about just forgetting it and riding on, but we decided on being the good Samaritan and going in to pay it – and it paid off immensely! The guy working there told us of a natural hot spring in the mountain that wasn't too far off our route, so we made that our reward for the day since it was towards the end.
At 8:30 we stopped at the super market in town and ate breakfast. By the time we finished all that business, we headed to the bike shop a few blocks away. The owner, Travis, happened to be open early and got us in right away. He quickly adjusted my spokes on the tire and had me up and running in a matter of minutes – such a knowledgeable and friendly guy to do business with! If you're reading this and happen to be in Teluride at some point, stop by his shop (http://boxcanyonbicycle.com/).
I was now set to go without that nagging annoyance that I was exerting more work than I needed to be. We had our second highest peak on the trip to climb today, and unfortunately we had to do all 12 miles of it today. Unlike Monarch's Pass, we were at the bottom when we began, where at Monarch we only had 6 miles to go until the top. So, we walked up and coasted down when possible. At 1:00pm we reached the top of Lizard's Head Peak and ate lunch.
We now headed down the mountain, knowing that the hot springs was coming up soon. Sure enough, as the guy directed us, there it was right off the highway. It was a little 8-man hot-tub sized pool that had naturally heated water flowing into it. We sat in the mineral-filled water for over an hour. This was probably our first time to REALLY relax since the trip started – and it was much needed!
Finally, the day came to an end at Dolores, CO. We met a friendly girl from London who is backpacking the USA, as well as the campground owner that we're staying at tonight. The good man let me come into his house and watch the OKC vs San Antonia basketball game with him – the perfect way to end the day (even though OKC lost)! Tomorrow is the Utah border… finally, the desert.
Total miles biked: 64.6 miles from Teluride, CO to Dolores, CO
"I have discovered that even the mediocre can have adventures and even the fearful can achieve." ― Edmund Hillary