Day 15 – Water Shortage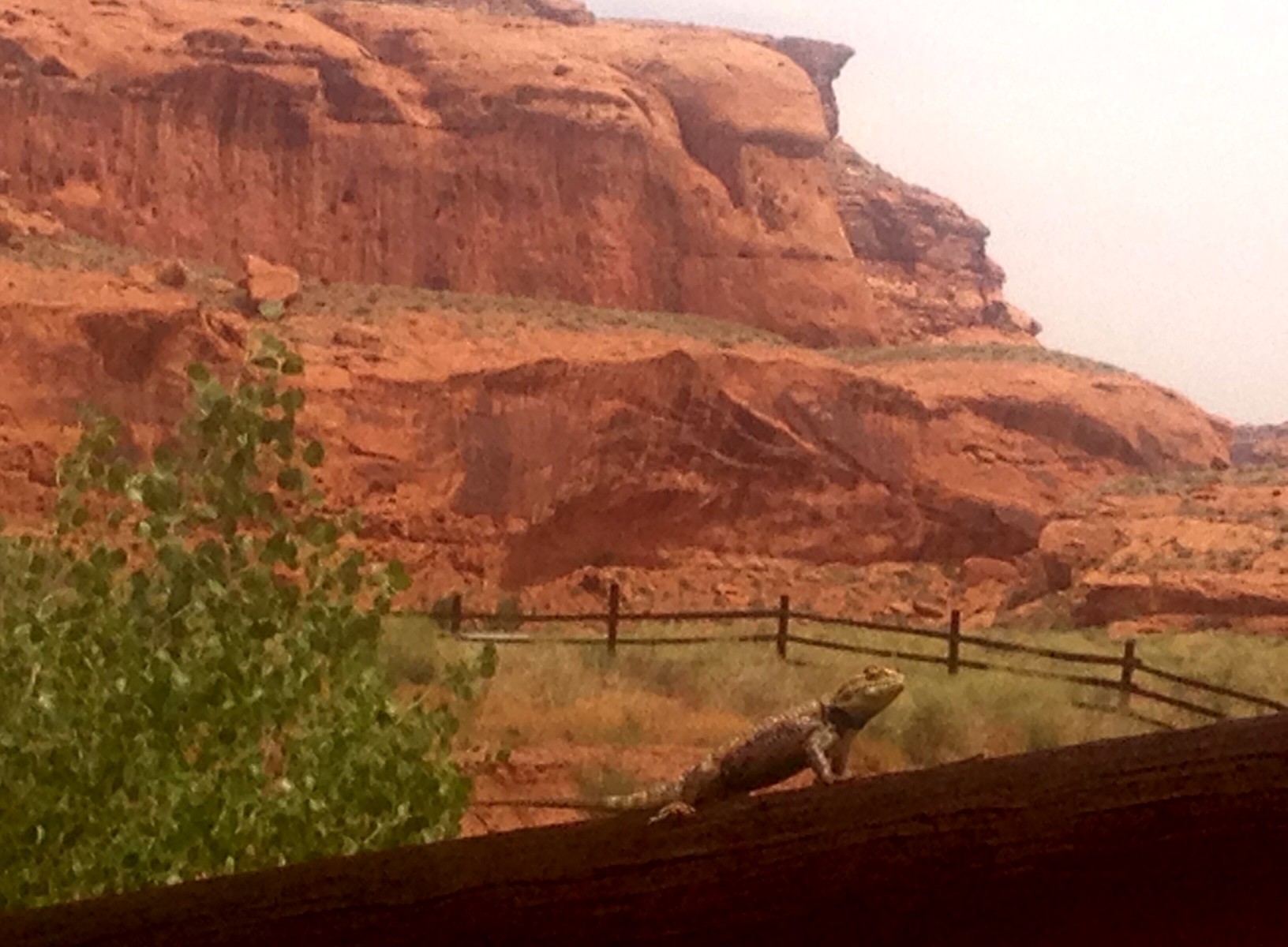 Woke up in a dry field of rocks with half of a bottle of water each – splendid morning. We did have an awesome sunrise coming over the mesas in the distance though, so that made matters better. As we rode down some hills this morning to get to the recreation area at Lake Powell (10 miles away), the air was cool and the sun lit up all the red rocks around us, making it a wonderful ride to our next water source for the next 54 miles.
This is one of those 'however' moments though… we collectively decided to bypass the recreation area because it was 2.2 miles off route (4.4 total miles wasted), and it looked downhill. In our trailer we have a water filtering system that we planned on using on the lake when we got closer, or even in the Colorado River which poured into that lake. Well, we arrived at the bridge for the Colorado River and there were sheer rock cliffs that were 100's of feet tall – there was no chance we were getting down to that water. Looking at our map, the next water source around this lake was a smaller river, so we pedaled (with no water left at this point) to that river… and once again, sheer rock faces. Another look at the map revealed there was a 'North Wash' that followed our highway away from the lake for a few miles, but our hopes were slim on that actually having water in it. At this point, we were both a bit apprehensive about our water situation. The next water source of any kind (which happened to be a town) was 54 miles away. There was absolutely no way we would make it there with no water left in our bottles.
Then, fortune finally came our way. We saw some trucks parked closer to the banks of the Colorado River further along the highway, so we found that path and walked down to the river with our filtration system. Filtering the water is a painfully slow process, but after about 45 minutes we had 4 of our 6 water bottles filled, had drank a few bottles during this process, and filled our 140oz water pack with Colorado River water (which we would filter later, if need be). I was very impressed with how well the filtered water tasted, and looked!
Our worry for the day was over, and all we had to do was get out of this canyon. Riding along, we encountered some gigantic canyon walls painted in vibrant reds and browns which made the trip that much more enjoyable. We found a rest area about 20 miles up the road (just bathrooms, no water of course) which we planned on taking a nap during the heat of the day, but as we sat there for awhile we realized there was a great overcast coming in, along with a nice breeze. So, we decided to march on to the next destination – Hanskville, UT.
We arrived at Hanksville around 3:00pm, but we were both gassed. There was a local burger shack that we stuffed our faces with, along with some homemade shakes that were fantastic! Finally, we got some groceries and set up tent for the night.
After counting up the total miles biked so far, I'm proud to say that we have rode a total of 985.3 miles so far, which is 20 miles shy of being half way. Which means, 985.3 / 15 days = 65.69 miles a day on average! And… even more exciting math tells us that at our current rate of travel we will be in San Francisco in 16 days! This is just tentatively of course, we don't expect to really get there that soon, but everything has been bliss thus far, there's a possibility we might.
Total miles traveled over the past two days: 146 miles from Monticello, UT to Hanksville, UT (73 miles/day avg.)
"We live in a wonderful world that is full of beauty, charm and adventure. There is no end to the adventures that we can have if only we seek them with our eyes open." – Jawaharlal Nehru