Day 16 – Perseverance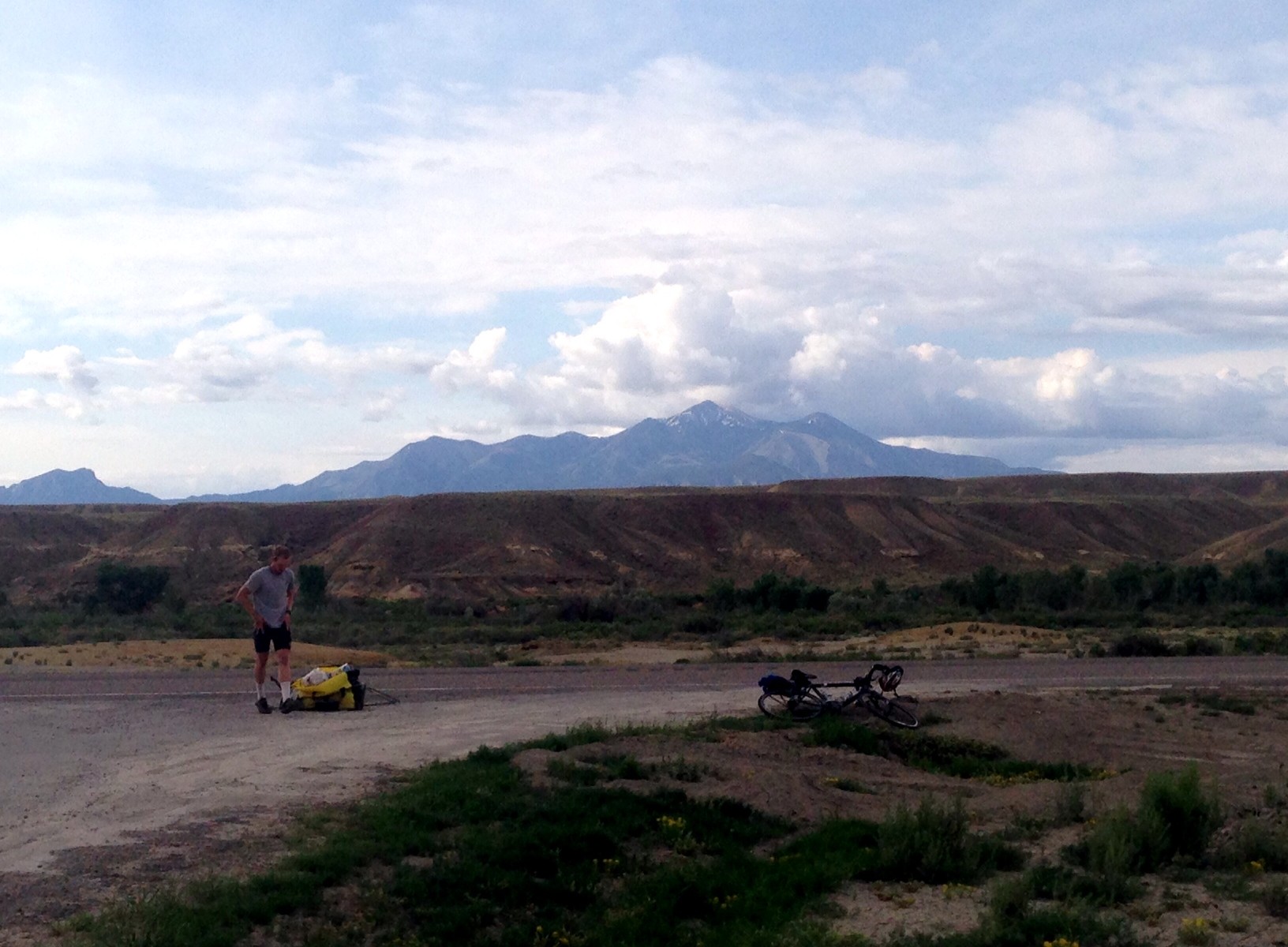 *Delayed post due to no service*
As the title suggests, we had a handful of troubles today. Our first one could have been extremely disastrous, but we lucked out. About 10 miles away from our campground last night in Hanksville, Seth noticed the bike trailer I was pulling had a flat. We pulled over and investigated. Upon looking under the tire at the tube we both thought the entire tire was shredded.
Well, ordinarily this wouldn't have been an issue, but before we left on this trip we had to downsize a little bit of our cargo and we mistakenly left behind 2 tires that had different valves than our bike tires. At the time we assumed they were just different valve tires and wouldn't need them, but as we rode on our first day of the trip we realized they were our trailer tires. Now, we knew we had none of the tires for our trailer and we were 50 miles from the next bike shop. As I dialed for the bike shop (which didn't work), Seth and I decided we would fill the tire with our socks, and if need be, our bread, until we got to that bike shop. So, I dialed the bike shop many times, and Seth began taking off the tire.
To our great relief, the shredding we were both looking at happened to be a tire liner made out of rubber, something we were unaccustomed to. Our tire just happened to have a small hole in it, so we patched it up and were on our way under the perfect overcast for today.
We rode through Capitol Reef National Park, which appeared to be like a 'desert rainforest'. There were plenty of shrubs, trees, and birds tweeting away as we rode along the canyon walls by a river. As Seth said, "It's like we're on another planet". At this point, the overcast was still thick.
Then came the rain. It was only a light rain at first, but the more we rode, the more it kept picking up. We had to stop at two gas stations along the way to wait out some of the heavier rainfall. Our second gas station was outside the town of Torrey, UT, which was only 12.5 miles from our destination tonight. The decision was made to get to the campground instead of staying in Torrey. On the way up the mountain we encountered light rainfall, but nothing like before. Surprisingly, this mountain had luscious green trees and shrubbery all around – it felt like Colorado, not Utah! We finally made it to the Dixie National Forest Campground where we'll be freezing in our tent for the night.
Total miles biked: 60.5 from Hanksville, UT to Dixie National Forest Campground (UT)
"The very basic core of a man's living spirit is his passion for adventure." – Christopher McCandless