Day 20 – Napping In A Culvert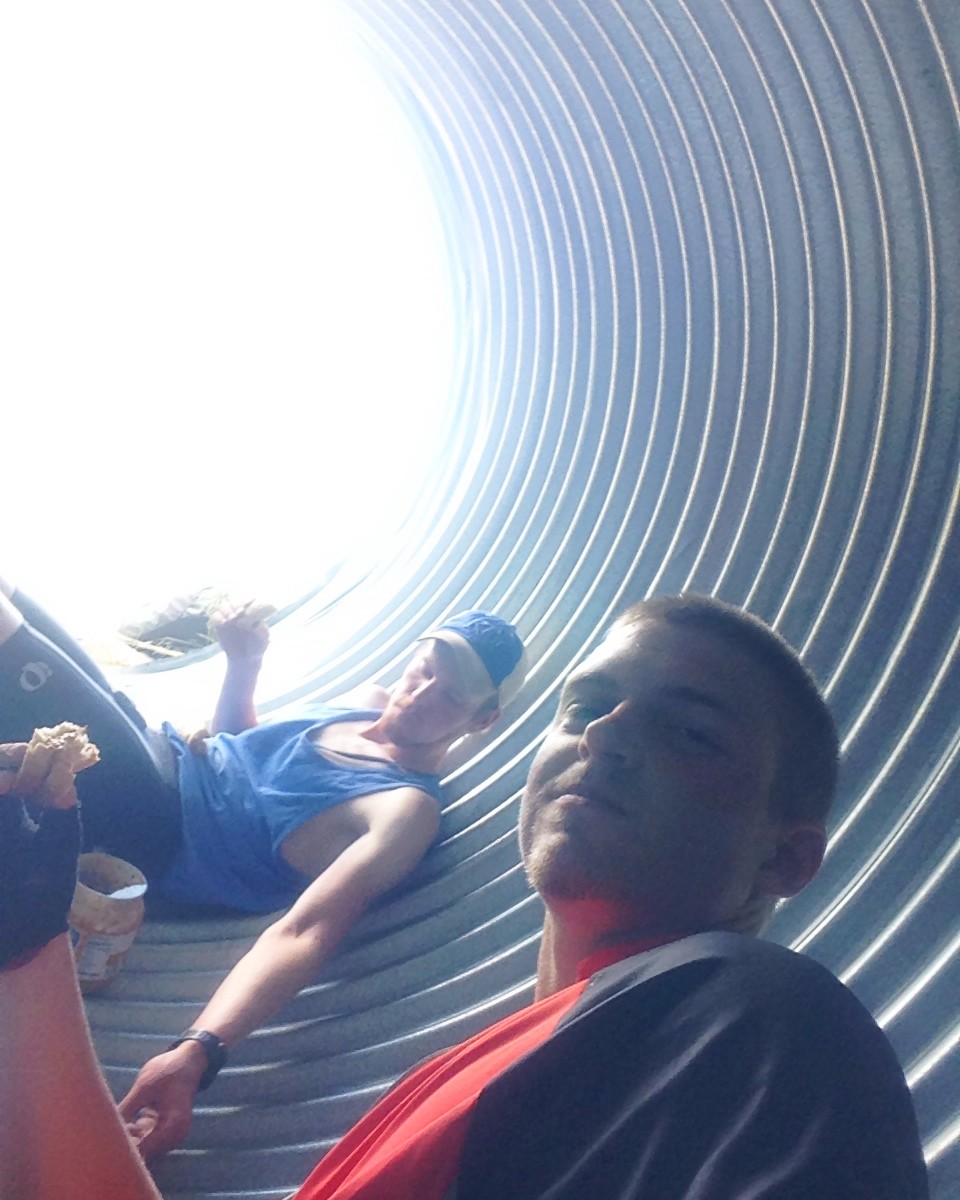 After eating our awesome continental breakfast this morning, we knew what pace we could go at for the day. By 10am we were already 40 miles done with the day, but after the next town in 13 miles there would be no services for 84 miles. Once we passed through that last town, Milford, UT, and filled up all our water packs, it was time to climb yet another mountain in the heat of the day.
As the wind picked up and there were no clouds to be seen, we decided to take a nap in a ditch culvert (about 5 feet in diameter). We ate lunch inside the cool, metal, pipe and rested for about 2 hours until 2:15pm. At this point we had already travelled 55+ miles, so there was no hurry to get to our goal of 74 miles for the day.
On our way up the small mountain there were many herds of sheep (hundreds upon hundreds!) grazing alongside, and even onto, the road. Since it is so desolate out here there really isn't any fencing restriction, which allows the animals to roam freely.
Once our bikes began their coast down the other side of the mountain, we noticed two other cyclists on this barren road a few miles ahead. We approached them and talked for about 20 minutes. Larry (presumably the father) and Carter were headed from San Francisco to Yorktown, VA! They were from western Iowa so they knew all about Nebraska, and Larry even knew a professor that Seth had a class with at UNK. Eventually we both said our farewells and began the immediate climb back up another small mountain.
As our water was getting lower and lower, I began to worry if we'd be able to make it another 55 miles to the next town with enough water for tomorrow. There was a steep incline at one point during the climb, so we walked for a mile or so. As we walked, there was a raised lagoon-looking pile to the side of the road. Curiosity got the best of Seth and he went and checked it out. He waved me to come over, proving my skepticism wrong. There happened to be a clear pool in that pile we saw, along with a small cement container that had water pouring into it continuously from a small PVC pipe that came from the ground. The water looked clear enough, so the assumption was made that it was well water. We drank until we couldn't drink anymore. Let's just hope our assumption was right…
It was past 6pm at this point and we had gone 76 miles already. There wasn't any protection from the wind for our tent tonight, so we just pitched it on the side of the road, hoping the landowner doesn't see our tent. Tomorrow we'll reach Baker, NV where we'll be able to stock back up on supplies. That's right… the desert of Nevada will be welcoming us tomorrow!
Total miles biked: 83ish miles from Cedar City, UT to a field 47 miles outside of Garrison, UT
"Adventure should be 80 percent 'I think this is manageable,' but it's good to have that last 20 percent where you're right outside your comfort zone. Still safe, but outside your comfort zone." – Bear Grylls