Day 21 – 'The Loneliest Road In America'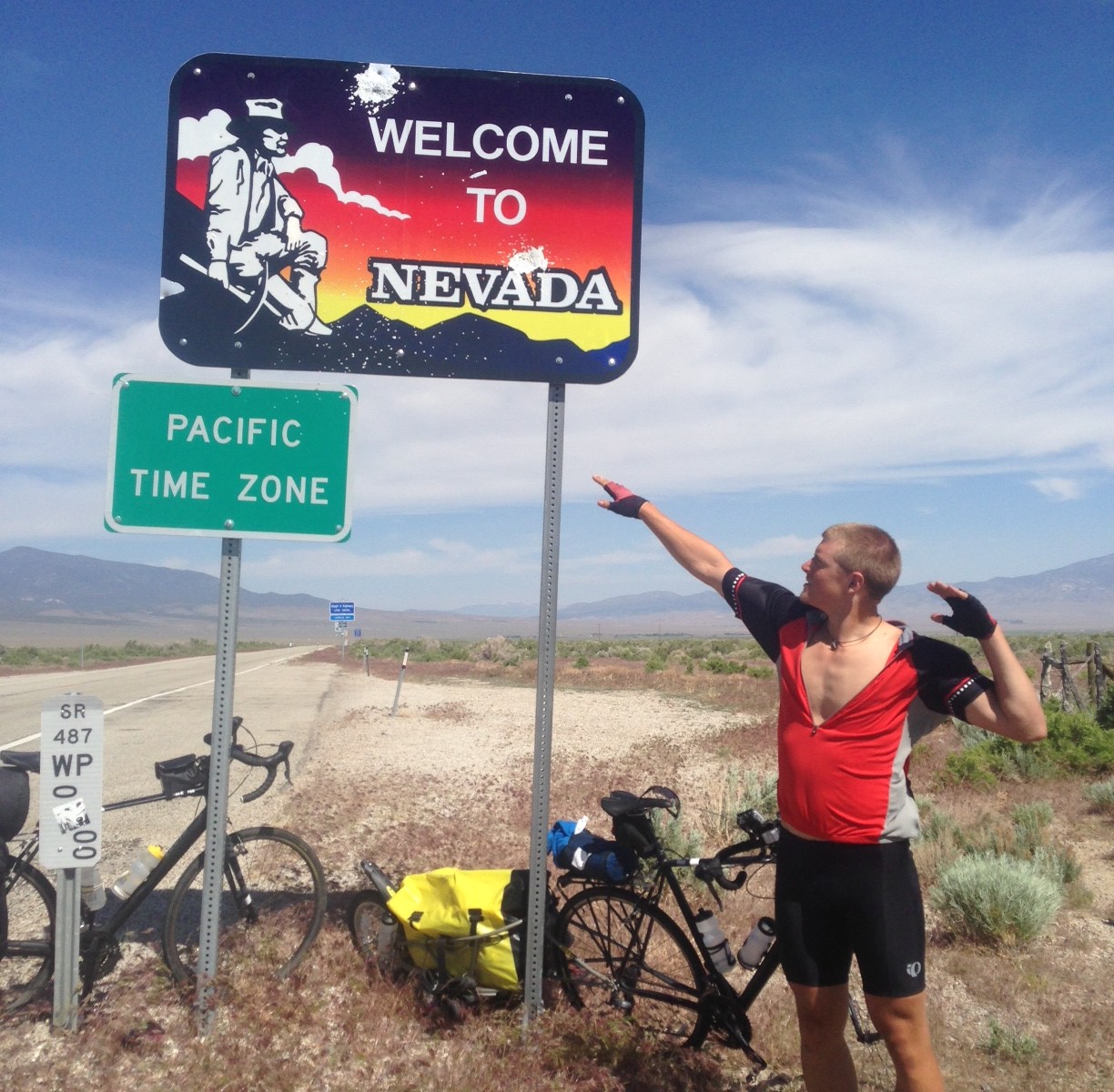 *Delayed post 1 day due to no service*
Woke up this morning in a field. Not the last time it'll happen out here in this unforgiving desert either. Our plan from last night was to hit Baker, NV (55 miles from where we slept) and call it a day because the next town was an additional 36ish miles from there. Well, with a tailwind at our back we were able to get to Baker by 11:30am. Although, we crossed the Nevada/Utah border which made for another timezone change, therefore it was technically 10:30am in Baker. Before getting to Baker though, we met two other cyclists – Scott and Noah. They were also traveling from the east coast to Yorktown, VA. Great dudes to talk to you, best of luck to them on their travels!
As we rolled into town, there were about 5 other cyclists eating some sandwiches under a tree and they hollered at us. We parked our bikes and a man immediately came over to us and told us everything in town was closed. He offered to give us some ice water and Gatorade, and informed us he was just driving behind those other cyclists and was their liquid man. We reluctantly accepted and filled up our bottles and talked to the guy as the other cyclists continued eating. He told us that they were riding from San Francisco to Yorktown, VA as well (just like Larry and Carter) and were doing it to raise funds/awareness for multiple sclerosis. Just as we were about to head out, the grocery store in town opened up, so everyone went in and stocked up on supplies for the long journeys in between towns.
Since the day was early still, we marched on to that next town, Majors Junction, NV (it's not even listed on Google Maps, that's how small it is). Ely was an ultimate goal which happened to be approximately 60 miles, and two mountains to climb, from Baker. As we surpassed the first mountain and coasted down it, we knew we could make it to Ely… until we got around the bend of the mountain. In the distance there was a field of wind turbines, and sure enough the nasty headwind hit us right away. We struggled pedaling down hill because the wind was so strong, making this stretch much harder than it should have been.
I know I say this a lot, but as our journey continues there are days that just suck a lot more than any other previous days. This was one of those days. There was nothing to look at for this 20 mile stretch to Majors Junction, the wind was blowing at our face at 15mph+, and we had a lot of uphill climbing to do. What should have taken us 2 hours, ended up taking the rest of the afternoon and evening. By the time we rolled into the bar/campground at Majors Junction it was 5:30pm and we were gassed. After eating a hamburger and fries, we unrolled our sleeping bags and fell asleep on hard cement with no tent behind the bar (that's where the owner told us we could sleep). Tomorrow we plan to get to Ely and spend the hot afternoon at McDonald's to freshen up and get some food in our bellies before tackling another 78 miles of no service.
P.s. – The title of this post wasn't a name I gave this stretch of highways… it was coined by a photographer for Life Magazine. There really aren't any houses, people, or any kind of life out on these roads.
Total miles biked: 88ish miles from a field 47 miles outside of Garrison, UT to Majors Junction, NV
"The traveler was active; he went strenuously in search of people, of adventure, of experience. The tourist is passive; he expects interesting things to happen to him. He goes 'sight-seeing." – Daniel J. Boorstin