Day 6 – First Big Milestone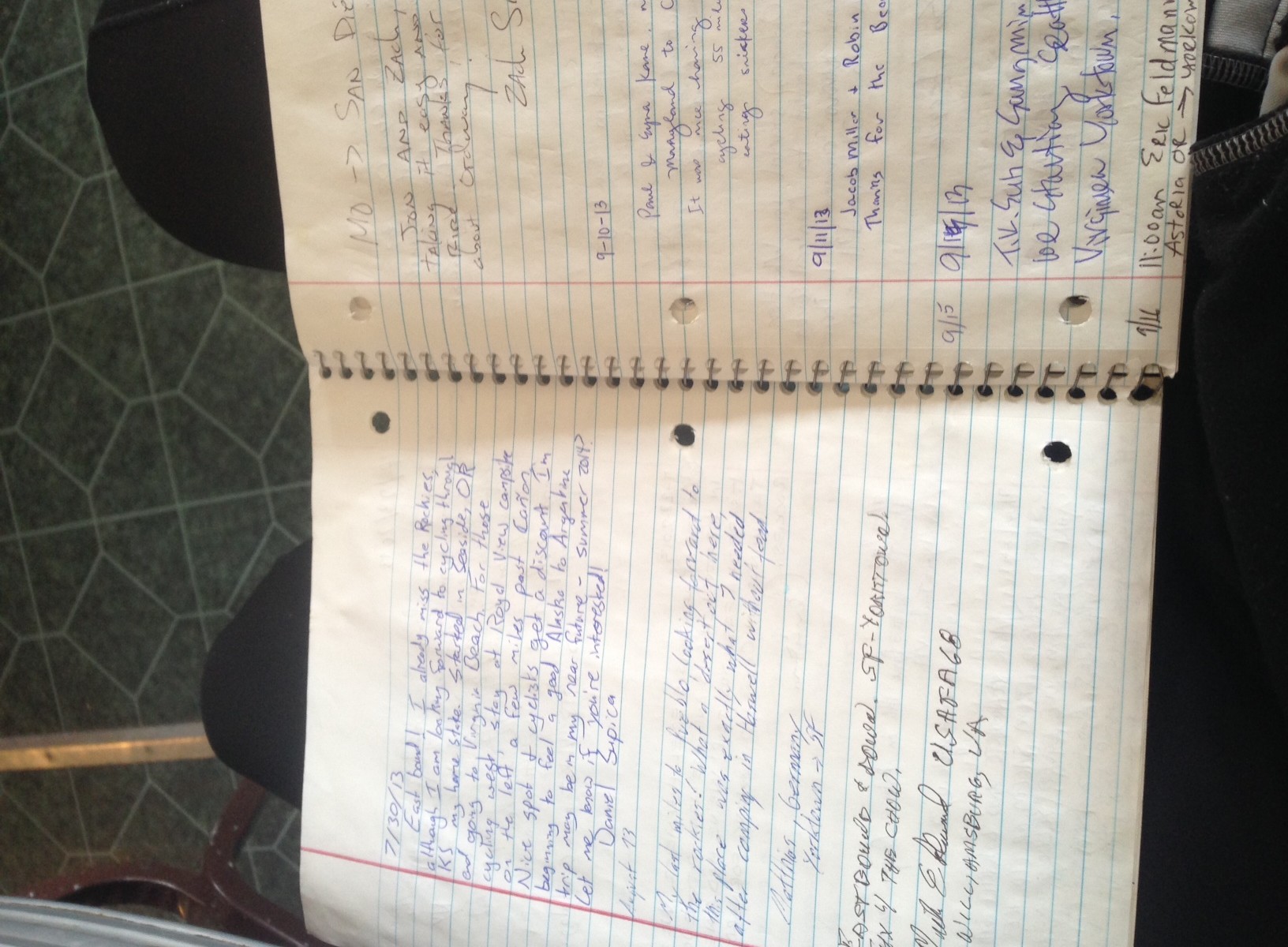 Finally made it to Pueblo, CO! Being rested from the hotel two nights ago, and sitting in our tent all day yesterday, we both agreed that we could do the 90 mile jaunt to Pueblo, CO today – which we did. The terrain is starting to become more hilly and mountainous the further we go on, so that made things a little though today, but luckily we were spared by the wind.
Our first stop today was 30 miles down the road in Sugar City, CO where I needed to sit in a cafe to defrost my feet. My toes had been numb all morning, which is a typical morning usually, but today I felt the numbness crawling up to the arch of my foot – I needed to warm up right away! We went into a very dated cafe in this small town and were quickly surprised by the lady working there with a notebook put in front of us. She said that all the cyclists from 2008 have been writing in this notebook as they pass through, and just like all the others, Seth and I wrote a little excerpt as well. It was very cool reading all the other stories and journeys that other people had been through, and extremely motivating to us as well.
From Sugar City, our next stop was a long ways up the road at Boone, CO, which was 23 miles from Pueblo. Before reaching Boone, we rode past two penitentiaries, and saw our first glimpse of some wildlife! Seth pointed out a deer running alongside us, and sure enough he jumped down the hill he was running on and crossed right in front of us.
Upon reaching Boone, the mountains were finally within sight! It has a bitter sweetness to it – on one hand it's great to think of all the beautiful views we will soon be encountering, but on the other hand we will have to begin our true ascent into the skies. Tomorrow's elevation profile is showing that we will climb 1000 feet in just 30 miles. If we are feeling good after that and decide to press on, the next 15 miles yields a 3000 feet climb. Things are about to get interesting…
Total miles biked: 89 miles from Haswell, CO to Pueblo, CO
"The beautiful journey of today can only begin when we learn to let go of yesterday." ― Steve Maraboli
(didn't get any real pictures today since we had to press hard to get to Pueblo. The one below is from the notebook at Sugar City.)