Day 7 – One Week Down… One To Remember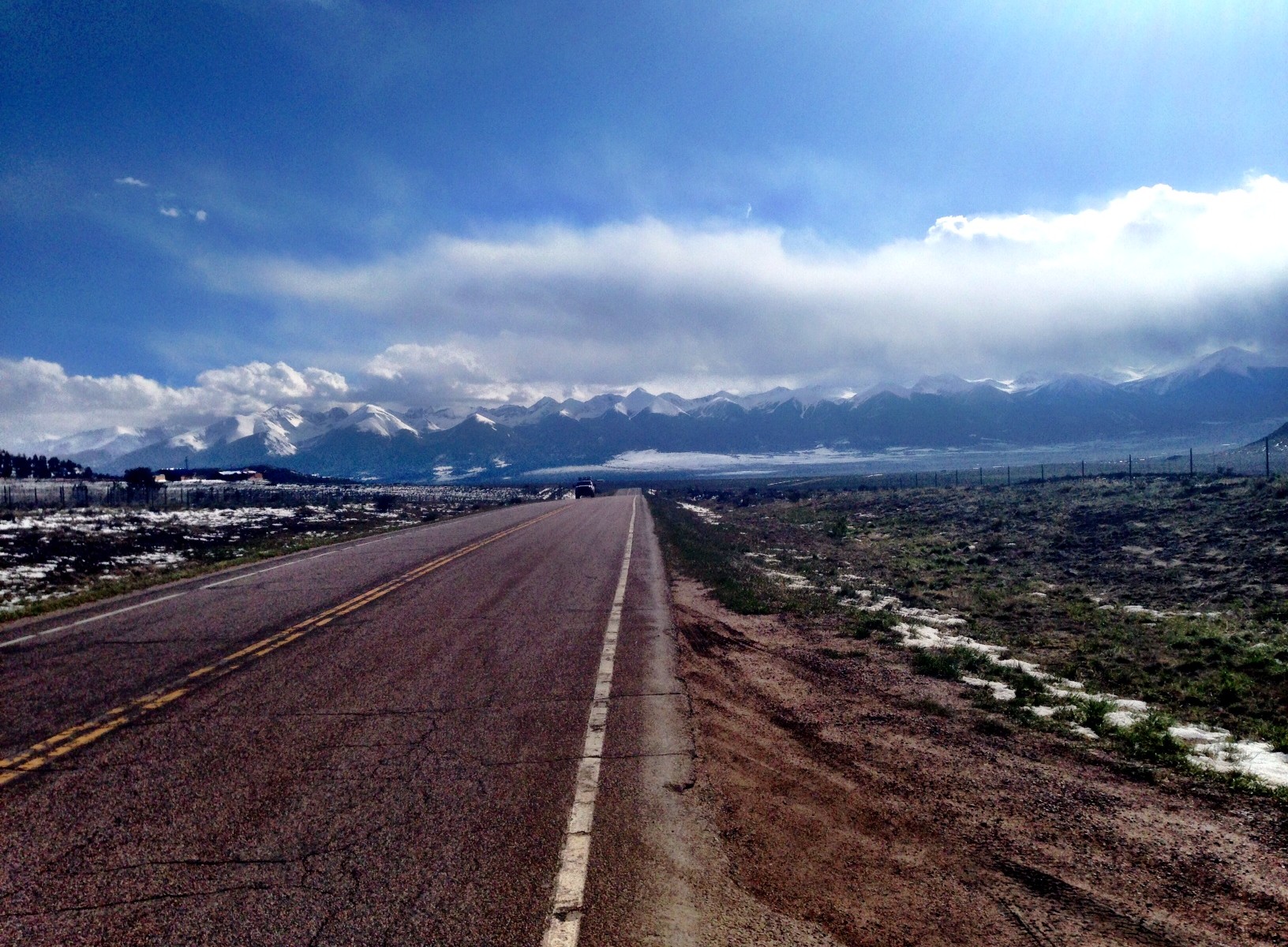 Seth and I thought we knew hills and climbing… before today.
This marks the completion of day 7 of our journey thus far, and today definitely tested us. After staying the night in Pueblo last night, we started heading out of town at around 7:30. There was an extremely steep grade (5%+) for a good half mile right at the beginning of our route, but we disregarded it as a one-time mishap… boy were we wrong.
Upon reaching the top of this incredible climb, our first look of the mountains finally came! Such an amazing view and a breathtaking experience. Little did we know that this was only the beginning of the amazement we were in store for.
The day went on, very slowly, and both our spirits were low. Hill after hill we kept pedaling over, as well as the wind blowing directly into our face. Admittedly we walked A LOT of miles today – it was simply impossible with the load we have to be able to bike up these steep grades.
Anyways, we marched on until our path crossed Wetmore, CO. An old man was outside cleaning some branches outside of the town's public library (that's all they had that was public), so we asked him where we could find some water. He gladly opened up the library for us and let us inside to fill our bottles up.
Soon after chatting with him for a while and eating lunch, we took off up the dreaded mountain. The next 12 miles would move us from 6000 ft elevation to 9000 ft elevation – you can about imagine the steepness of what was about to come. Originally, Seth and I planned to camp alongside the mountain overnight and just get as far as we could. At one point, 7 miles up (unknowingly at the time), snow started coming down pretty fiercely. Being from Nebraska, you don't expect a 'snow shower' to last a couple minutes, but we panicked expecting a Nebraska blizzard and coincendentally were right by a small off-road campground. We quickly set up camp as the snow kept coming down, and within 15 minutes we were ready for the night… except it was only 2pm, AND the snow already ceased. The decision now was to pack everything back up and keep walking up the mountain for a few more hours, or just sit out the rest of the sunny day.
… we kept on. Keep in mind, we're pulling 40ish pounds of gear with us, and walking up a 5-8% grade mountain for another 6 miles. It definitely took its toll on us. There were no parts along this walk that we could even hop on our bike to ride a little, it just wasn't possible to pedal anywhere… so we kept walking. At this point, both Seth and I would chime in at different times and tell one another "Hey, this part is going down hill, let's coast it out" (this happened MANY times), but to our disappointment it was all an illusion with how the mountains slanted and the hills were actually still going up more. This happened way too many times!
The mile markers kept getting lower though, and we pressed on with the sun high above our heads. I could tell you about all the hardships this caused us physically and mentally, but you get the point by now. Right before making it to the top of the mountain, we were lucky enough to see some wild goats, that was a cool pick-me-up. Eventually we made it and began our descent. During this descent some of the most INCREDIBLE scenery I have ever seen in real life, and photographs, came into view (see pictures below). This was enough for us to ride down the mountain (going 40mph+ on many parts) and reach our destination for today – Westcliffe, CO.
Although today was a huge hit to us physically and mentally, the sights we were able to see and soak in being on a bike are unforgettable. Now that I've went through it,  these are things I will have with me the rest of my life – and I'm glad (as I sit in our hotel room, and not walking up the mountain!) that I did it.
Total miles biked: 57 miles
"Never stop just because you feel defeated. The journey to the other side is attainable only after great suffering." ― Santosh Kalwar