Day 8 – Other Cyclists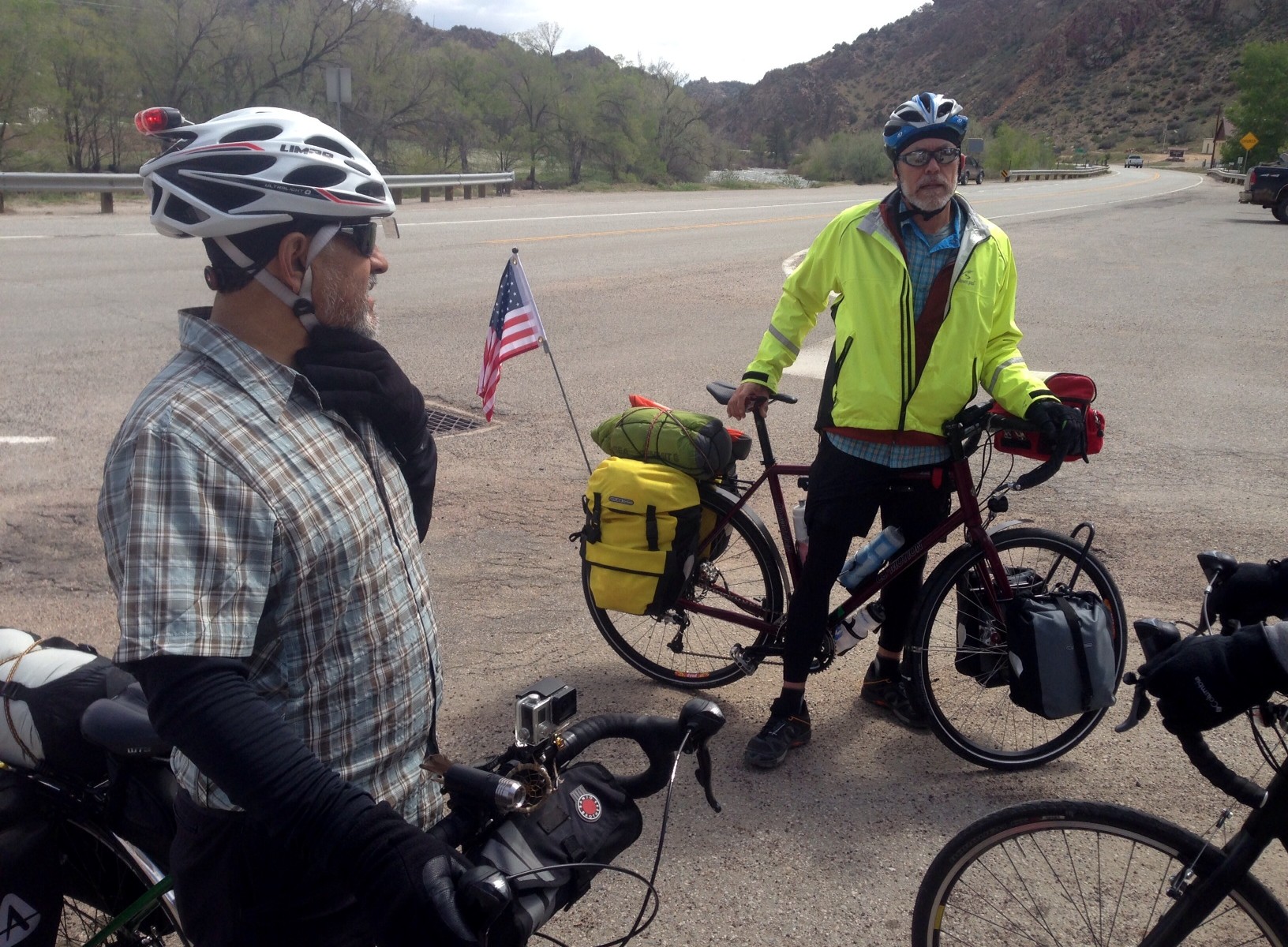 The morning started off with another flat right as we were leaving the hotel room. Luckily I noticed it on my tire before we checked out, so we were able to change it in the warm room. After that, the first half of today was all downhill, as we stayed pretty high up last night after getting over that mountain. It was great to be able to coast for miles, but we knew the other half of the day was right back uphill. The final stretch of going downhill landed us in Cotapaxi, CO. The road going down was at a consistent 4%+ grade for about 4 miles – it was like a scary rollercoaster! My hands were constantly pulling the brakes, and I knew that any fault in my bike or any large bump in the road would lead to severe injury (we were going THAT fast). Seth was unable to check his watch to clock our speed, but I venture to say we got above 40mph+ on most of it.
Upon reaching Cotapaxi, we were just about to cross the highway that we needed to get along when, finally, two other cyclists came cruising right to us! It was such a relief to talk to some people who had crossed the mountains we were soon to go over. The four of us talked strategy, mapping, and anything else that relates to biking for a good 15 minutes. Victor and Tor (awesome name, right?) said they were from San Diego and were heading all the way to Virginia! Victor told us that Tor was turning 60 years old on this trip, which only reminded Seth and I that we have absolutely nothing to complain about. We all wished each other luck and headed down our paths.
We stopped in Salida, CO to eat a late lunch at Subway. By 2:50pm we were heading out to our last 10 miles to the town of Maysville, which we knew had a campground. It took longer than expected because the climb to the top of Monarch's Pass started now. Tomorrow we will go over Monarch's Pass – our tallest peak on the entire journey! We pushed really hard to get to Maysville tonight because it is only 12-13 miles to the peak, so hopefully we can reach the peak before 1pm. Conquering that Pass tomorrow will mean we have finally crossed the continental divide!
Total miles biked: 57.8 miles from Westcliffe, CO to Maysville, CO
"The purpose of life is to live it, to taste experience to the utmost, to reach out eagerly and without fear for newer and richer experience." ― Eleanor Roosevelt